2023-11-26
Karla LaVey and The First Satanic Church proudly present the 24th Annual Black X Mass Show.
Monday, December 25th, CHRISTMAS NIGHT.
@Knockout in San Francisco, 3223 Mission St.
The admission price is $13 at the door, ages 21 and above. There will be giveaways and the usual complimentary free snacks.
This year's acts will be SNATCHER, CLASS OF '77, SUICIDE QUEEN, KUL, RUBBER (() CEMENT, THEREMIN WIZARD BARNEY & DJ KrOb. Karla LaVey will emcee the event.
The show will begin at 9 P.M. sharp! Doors will open at 8:30 P.M. with unique recordings chosen specifically for this occasion, spun by eclectic DJ KrOb (of Radio Valencia). He'll be followed by the blast off for the evening with eerie sounds from the wizard Theremin Barney's latest homemade contraption. This year's specialty instrument is composed of soldered metal pyramids. His short set will be followed by the nothing short of amazing, experimental noise meets surrealistic cardboard sci-fi, the world renowned, highly acclaimed duo RUBBER (() CEMENT. Brace yourself… They could exorcise any holiday demons left within you. After this shocking spectacle will be keyboardist, KUL, with his dark, ambient and soothing tones.
We look forward to SUICIDE QUEEN, the diabolical industrial metal trio from Oakland and L.A., starring the sinister Kay Delores, the bewitching Scarr Kevorkian and the mysterious Ron Graves, who will all be flying the Satanic colors.
Next up, on our variety show, rock out with Chelsea Rose's energetic, high spirited band, CLASS of '77, playing classic punk and new wave favorites from that year. Band members include guitarist Pauli (formally w/ Chelsea in White Trash Debutants), bassist Carmela (Slapmatics) and Ian (The Nerv) on drums.
Last but not least, ending the show will be the incredible, exciting, kick ass crowd pleaser, SNATCHER, featuring the remarkable Kristi Kremes on vocals and guitar with talented bassist Jenni Coppertone and skilled drummer Pally Ramirez.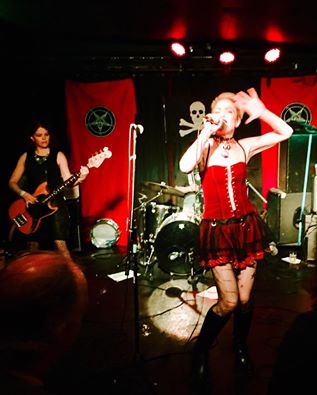 Jenni Coppertone and Kristi Kremes performing at a previous Black X Mass.