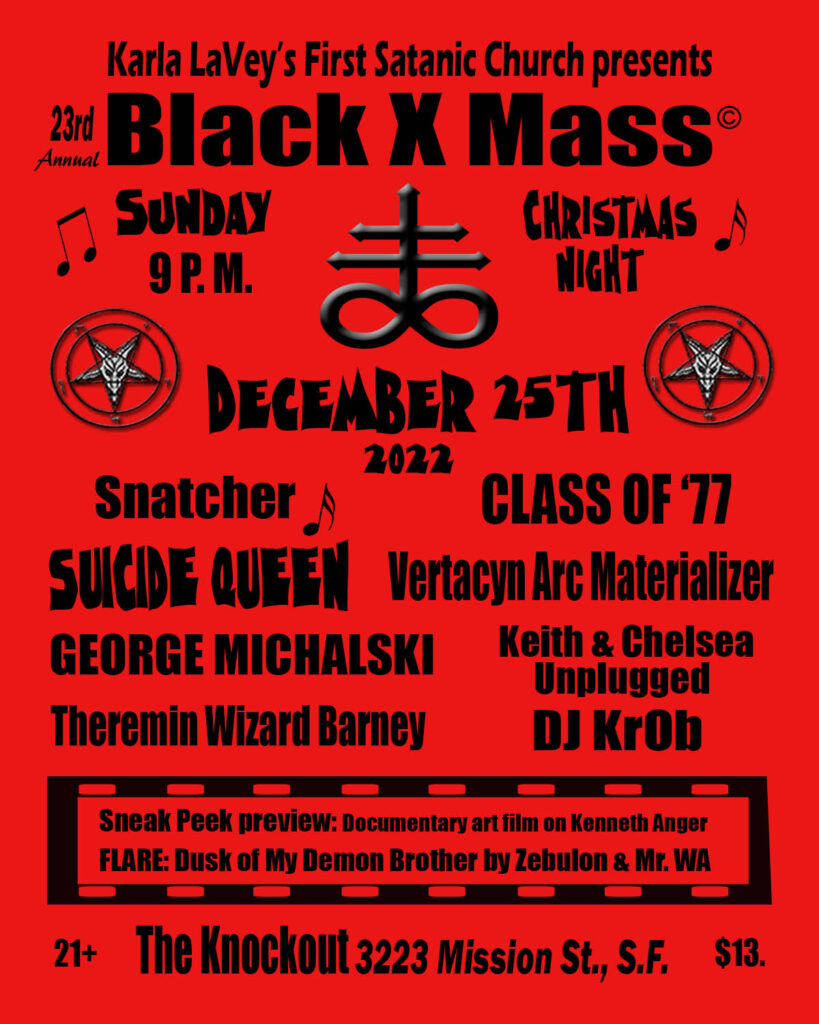 Come to an ungodly, unholy kick your ass music show featuring scary evil SUICIDE QUEEN , CLASS OF '77 – best of 70's punk rock, SNATCHER- down and dirty girl band from Oakland, Ca, the weirdest – Vertacyn Arc Materializer, Keith & Chelsea unplugged, George Michalski – award winning "maestro" pianist composer will play "The Hymn to Satan", Theremin Wizard Barney will spook and DJ KrOb will amaze you!
There will be a sneak peak premier screening of "FLARE: DUSK OF MY DEMON BROTHER", a documentary art film about underground filmmaker Kenneth Anger by Zebulon and Mr. Wa.
So, If you're in San Francisco on Christmas night you won't want miss this once a year event, an evening of non-stop musical entertainment and film, open to the public. Everyone is invited to come and have a great time.
Karla LaVey hosts and emcees the Annual Black X Mass*, San Francisco's unique holiday tradition,
Giveaways and free snacks always!
Where: The Knockout – 3223 Mission St., San Francisco, CA 94110
TIME: 9:00 P.M. – 1:30 A.M. – $13. cover at the door (no large bills please!) Doors open at 8:30.
Guests must be over 21 years old. Bring proof of Covid vax if there is a surge as the venue might be checking. Masks are welcome.
BLACK X MASS* copyright 2022 First Satanic Church