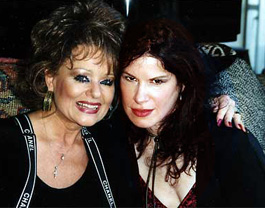 THAT WAS indeed Tammy Faye Bakker, backed by a 40-voice choir, singing gospel in a Noe Valley back yard yesterday. Tammy Faye was the guest of honor at ad man Bob Pritikin's perennial, and perennially odd, Labor Day bash. Bruce Bellingham caught the scene: "Tammy Faye dazzled the socialites and screwballs with her graciousness, her cheeky sense of humor, her svelte figure and her performance, backed up by the Jubilee on Fire choir from San Jose."
Tammy Faye was dressed in black slacks, a black turtleneck, Chanel black suspenders and a gold Chanel belt. … This year was a departure from last year's do at Chez Pritikin, when the attraction was a contortionist named Rubber Boy. And the year before that, it was Torture Man, a fellow who rolled about in broken glass while Bob jumped up and down on his naked torso. But this year's do wasn't without its jarring images: Tammy Faye being photographed with Karla La Vey, for prime example. … Karla's dad was the late Anton La Vey, founder of the First Satanic Church in San Francisco. That wouldn't have bothered Tammy Faye much. Her favorite subject these days is compassion: "If I knew I was going to live every word I used to preach, I think I would have given up. That's why God doesn't let us get a look around the corner," she told Bruce.
Chet Helms, the father of the Summer of Love, was there. … Willie Brown posed for pictures with Tammy — as did the always-funny Bella Farrow, who wasn't going to leave without a little chit-chat with the doyenne of televangelism. … Eddie Fisher was there. … So was novelist Herb Gold, with his longtime friend Lotte Lumdell of the Performing Arts Library. … Also amongst 'em were Dick Hongisto … KGO radio's Ray Taliaferro … Angela Alioto, just back from Italy, sat around with Bevan Dufty and Eddie Fisher … Tony Hall looked super-visorial. … Also at the Pritikin Palace were Ruth Brinker, the founder of Project Open Hand … Arthur Jackson, running for supervisor in District 6 … Maggie Gomez, running for Daly City Council … and Stanley Eichelbaum, who just keeps running.
Dawne Streutker, the dazzling dentist, was struck by Pritikin's hidden manse. "It's like San Simeon in the days of William Randolph Hearst where you might run into just about anybody — anybody who is interesting." Pritikin said there was a rainbow over The City — even though the sky was without a cloud on Labor Day. "The rainbow is the one of survival and forgiveness — what San Francisco is all about." Pritikin, who also wrote a book titled "Christ Was an Adman," handed out wristwatches as party favors. The face of Jesus was on the face of each watch. In honor of Tammy Faye, Christ was depicted with false eyelashes.