2022-12-07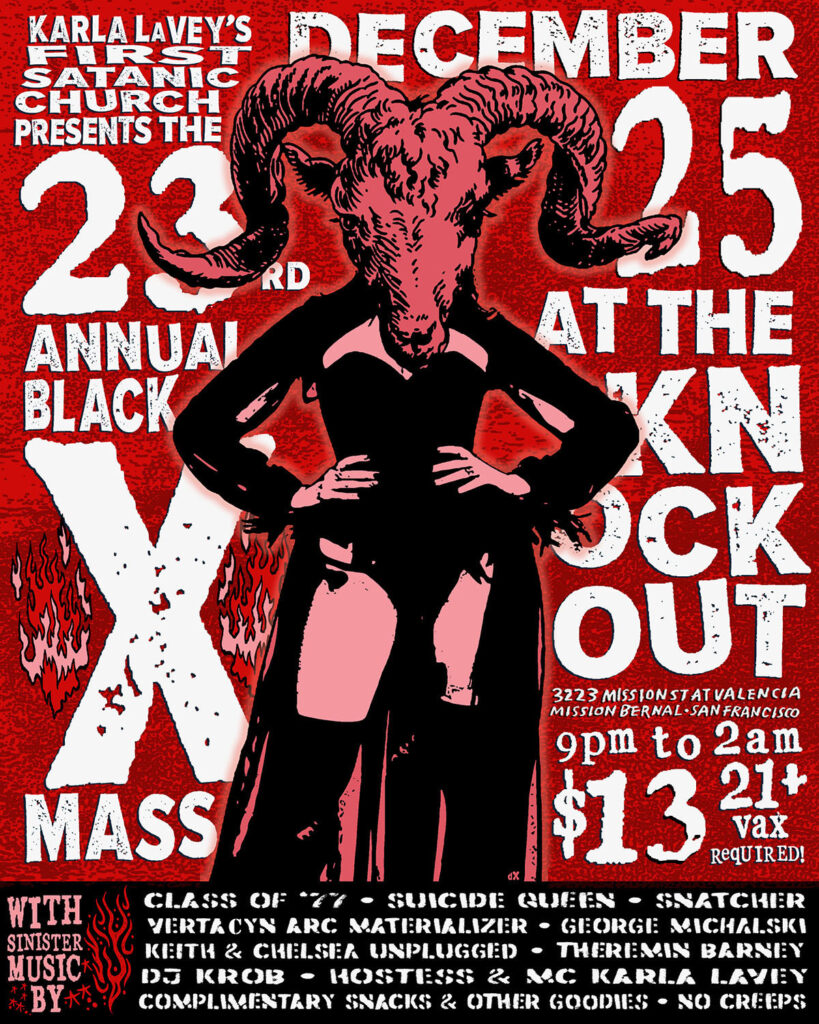 At the Knockout 3223 Mission St. in San Francisco
Karla LaVey's First Satanic Church presents the 23rd Annual BLACK X MASS, an unholy variety show, open to the public, featuring unique music and film! Last year's (23rd) show was cancelled due to the Covid pandemic but will return this Christmas night, featuring SUICIDE QUEEN, CLASS OF '77, VERTACYN ARC MATERIALIZER, SNATCHER, GEORGE MICHALSKI and more… The event will begin at 9 p.m. with eclectic DJ KrOb, mysterious sounds from THEREMIN WIZARD BARNEY, KEITH & CHELSEA UNPLUGGED, award winning pianist/composer – GEORGE MICHALSKI, weirdness from VERTACYN ARC MATERIALIZER, bewitching SUICIDE QUEEN, punk rock highlights from CLASS of '77 and Oakland based girl band SNATCHER will complete the evening. Karla LaVey will emcee.
INCLUDED will be a SNEAK PEEK premier showing of "FLARE: Dusk of My Demon Brother", a documentary art film on underground filmmaker KENNETH ANGER by Zebulon and Mr. WA.
Free snacks included.
$13. Admission
Ages 21+ older.
Please be prepared to bring proof of your Covid vax as it may be required by the venue for entry if there is a surge in the area. Of course masking is always welcome.